Bejoy Nambiar is getting ready for his first taste of Hollywood. The young director, who won the television show, Gateway To Hollywood, has bagged a two-month internship with Hollywood producer Ashok Amritraj.
But Bejoy is not a newcomer on the field. The Mumbai boy finished his education in Bangalore and UK. In Bangalore, he was part of a theatre group called The Theatre Club of Bangalore. He liked the experience so much that he decided to learn the art of filmmaking.
So on one hand, Bejoy assisted his father in his textile export business and on the other, he started writing scripts for short films. His next step was direction, and he started preparing for his eight-minute film, Reflections.
A huge fan of Mohanlal, Bejoy approached the Malayalam superstar for his film. "It was really wishful casting but not difficult," Bejoy tells us. "As soon as I narrated the script and explained the concept to him, he was on board. The difficult part was fixing the appointment with his secretary."
Reflections is a silent film. Mohanlal is shown sitting in a cafe with his wife (played by Juhi Babbar) and child. As he looks around, he tries to imagine how he would react if he was in that person's place.
The film was shot in three days. The post production took about eight months.
"Working with Mohanlal was a great experience. Not once did he make me feel that I was a newcomer," Bejoy says. "He was a thorough professional and was very helpful."
Reflections gave Bejoy his first film, and a wife. The director fell in love with Juhi Babbar on the sets and after two years of courtship, they got married.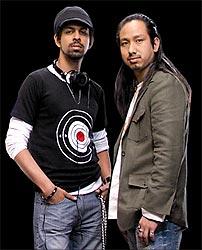 After that, Bejoy assisted Mani Ratnam on Guru.
He also directed a 40-minute film called Rahu, which was set in Kerala. The film tells the story of five people, played by Madhu, Tilakhan, Sandeep Kulkarni, Kamilini Mukherjee and Sheetal Menon.
The film was entirely shot in Bejoy's grandmother's and aunt's homes -- Bejoy's parents hail from Kannur district in Kerala. The post production work has not been completed yet, as Gateway happened.
Talking about Gateway, Bejoy says, "It was a two and a half month stint but there was so much to learn. I made good friends. Every week we gave a short film together. When a team got eliminated, it would be an emotional moment for us."
Out of the four short films in the show, his favourite is Soap. "That was a silent film with Jackie Shroff. Nagesh Kukunoor said that this was Jackie's best performance that he had seen," he says.
The story is about the life of a bored Maths professor, who never speaks to his family. His wife and daughter are always watching television. One day, when his family is not at home and the television is off, the professor gets disturbs by the silence and switches on the TV. Strangely, he sees a man just like him on TV, and watches his future.
"Jackie Shroff kept telling me that if I go overboard and if I am not acting properly, let me know. I give myself completely to you. He was really fantastic to work with. He was open to all sorts of ideas," Bejoy says.
Here's wishing Bejoy luck, as he looks forward to his budding career in Hollywood.